Tree King Consulting - the quality you need, when you need it.
Subsidence & Insurance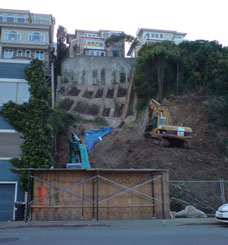 Tree roots can cause damage to the foundations of buildings. Tree King Consulting is available to give advice where damage or influence from tree roots is indicated.
Roots dry the soil during the summer months, and can cause soil shrinkage. If this occurs under the foundations, buildings may crack. This is generally called "subsidence".
Experience is required to competently investigate subsidence, and to know when to refer to other professions. In some cases, tree removal can make the situation worse (subsoil heave), and the tree surveyor needs to be able to recognise these cases.
We commonly advise Insurance Companies, Structural Engineers and allied professionals where damage has occurred, as well as ordinary householders who are concerned about the integrity of their primary asset.
Contact Us
Tree King Consulting has considerable experience offering advice about the effect of tree root subsidence to buildings. For more information about our services please feel free to call us on 07860 790024, or contact us via our online form.