Tree King Consulting - the quality you need, when you need it.
Veteran & Ancient Tree Advice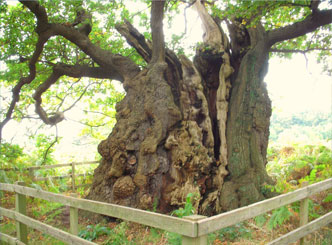 If you are an owner of ancient trees, then Tree King Consulting can advise you on how they can best be managed to ensure that they are safe and can be enjoyed by future generations.
Britain is especially rich in ancient trees. Often they are not the largest trees in the parish, but invariably they are full of character and wildlife. In recent years, the values of these ancient trees as historical markers and refuges for specialised fauna, have been recognised.
"...to the two oaks that stand into the road; then along the hedge to the east of Lamhyrst…to the ivy-tod (ifihan stoc); to the stock that the swing-gate used to hang on; from the stock out through the middle of Hill-lea to the old ash; from the ash south over the road to the apple-tree; from the apple tree to the white hazel…along the hedgerow out of the Limburn..."
Boundary of Havant (Hants), dated 980 AD
(A typical Ancient Countryside Charter)
Rackham - pre-eminent woodland historian and author.
Contact Us
Tree King Consulting can advise the owners of ancient trees on the best way in which they can be managed. For more information about our services please feel free to call us on 07860 790024, or contact us via our online form.